! english version = blue !
Auf Phuket war ich mit meinem Partner, Fotografen und Manager Marc unterwegs. Für die erste Nacht haben wir uns einfach zu irgendeinem Hotel in Patong fahren lassen, denn das eigentliche Hotel war erst für den nächsten Tag gebucht.
Da es beim Check-Out aus unserem ersten Hotel regnete, schnappten wir uns das erst beste TukTuk (kleines thailändisches Fahrzeug) und machten uns auf den Weg zu den BYD Lofts. Das Personal des 4 Sterne Hotels war zwar etwas verwundert über die Anreise in dem bunten Fahrzeug, dass normalerweise nur ein Touristengag ist, wir ließen uns aber nichts anmerken. Wir wurden sehr nett mit alkoholfreien Drinks empfangen und direkt auf unser Loft im zweiten Stock gebracht. Ich glaube die Bilder sprechen für sich selbst. Die hochmoderne Küche, der große Balkon, das stylische Wohnzimmer und das gemütliche Schlafzimmer – einfach Wow! Ach ja, und das komplett verspiegelte Badezimmer war natürlich auch nicht schlecht. Die Obstschale wurde täglich mit exotischen Früchten gefüllt und das Trinkwasser war, wie fast überall in Thailand, inklusive. Ich war schon einige Male in einem Loft, anstelle eines Hotelzimmers und muss sagen, dass mir das richtig gut gefällt. Man hat reichlich Platz sich zu entfalten, kann sich etwas kochen oder warm machen. Außerdem kann man mit tollem Ausblick am Schreibtisch arbeiten oder sich gemütlich auf das Sofa knallen.
I was spending my time on phuket with my partner, photographer and manager Marc. For the first night we just asked a taxi driver to bring us to any hotel in Patong, because our actual hotel was only booked from the day after.
It was a rainy day, as we had to check out from our first hotel, so we took the first TukTuk (small Thai vehicle) that came along the road and made our way to the BYD Lofts. The crew of the 4-stars hotel was a little confused about our arrival with that colorful vehicle, that is normally only used as a tourists attraction. We had a very warm welcome with some non-alcoholic drinks and were guided to our loft on the 2nd floor. I think the pictures show it better then I can explain it. The modern kitchen, the large balcony, the stylish livingroom and the relaxing bedroom – just Wow! Oh well, and the totally mirrored bathroom was also wonderful. The fruitbowl was filled up with fresh exotic fruits daily and the drinking water was, as almost everywhere in Thailand, complimentary. I had been to a loft instead of a hotel room several times now and I have to say that I like it very much. You have got lots of space, you can cook yourself a meal or just heat something up. Additionally you have the possibility to work at your desk with a great view or chill down on your sofa.
Das Besondere an den BYD Lofts ist, dass es im Gegensatz zur klassischen Ferienwohnung, trotzdem Personal und Service gibt. All unsere Wünsche (Blumen für die Fotos, frisches Obst, ein Verlängerungskabel…) wurden super schnell, extrem nett und ohne zusätzliche Kosten erfüllt. Das Frühstück war zwar nicht riesig, aber dennoch mit allem bestückt was man braucht. Pancakes, French Toast oder Eier wurden immer auf Bestellung frisch zubereitet.
The special thing with BYD Lofts is, that you still have the comfort of staff and service. All of our demands (flowers for the pictures, fresh fruits, an extension cable…) were fulfilled super fast, very kind and without additional costs. The breakfast was not too large, but still assembled with everything you need. Pancakes, french toast or eggs were freshly cooked on demand.
Nach dem Frühstück hatte das Hotel einen eigenen Fotografen engagiert, um Bilder für die Social Media Pages aufzunehmen. Nachdem wir das komplette Loft abgeshootet hatten, ging es noch an einen ganz besonderen Ort, den Rocks am nördlichen Ende von Patong Beach. Trotz Wind und Regen (oder gerade deswegen) sind einige wunderbare Bilder entstanden.
Mein absolutes Highlight war dann der Rooftop Pool auf dem Hoteldach. Hier konnte ich in Mitten des stressigen Großstadtdschungels entspannen (und natürlich viele tolle Bilder shooten).
Die Lage des Hotels ist einfach perfekt. In einer Seitenstraße gelegen bekommt man vom wilden Verkehr und dem nächtlichen Treiben nichts mit. Dennoch ist man mitten im Zentrum von Patong und in wenigen Minuten zu Fuß in der berühmten Bangla Road oder am langen Sandstrand. Wenn ihr also den Mix aus Entspannung, Shopping und Nachtleben sucht, dann seid ihr hier genau an der richtigen Adresse. Natürlich muss für die Lofts auch das nötige Kleingeld vorhanden sein, aber auch zwei oder drei Tage sind schon ein echtes Erlebnis.
After the breakfast I had a fotoshooting for the blog and the hotels social media pages with a thai photographer. We have been shooting through the complete loft and went to a very special place then, the rocks at the northern end of patong beach. Despite wind and rain (or maybe because of that) we took some fantastic pictures.
My definite highlight was the rooftop pool on the hotels roof. At this place I could relaxe in the middle the stressful city jungle (and for sure take a lot of nice pictures).
The hotel is perfectly located in a side road where you don´t notice the wild traffic and the nighlty activities. But it is still in the centre of Patong just a few steps away from the famous Bangla Road or the long beach. So if you are looking for the mix of relaxing, shopping and nightlife, this is absolutely the place to be. For sure you do need a little money to stay here, but also two or three nights are already a pleasure.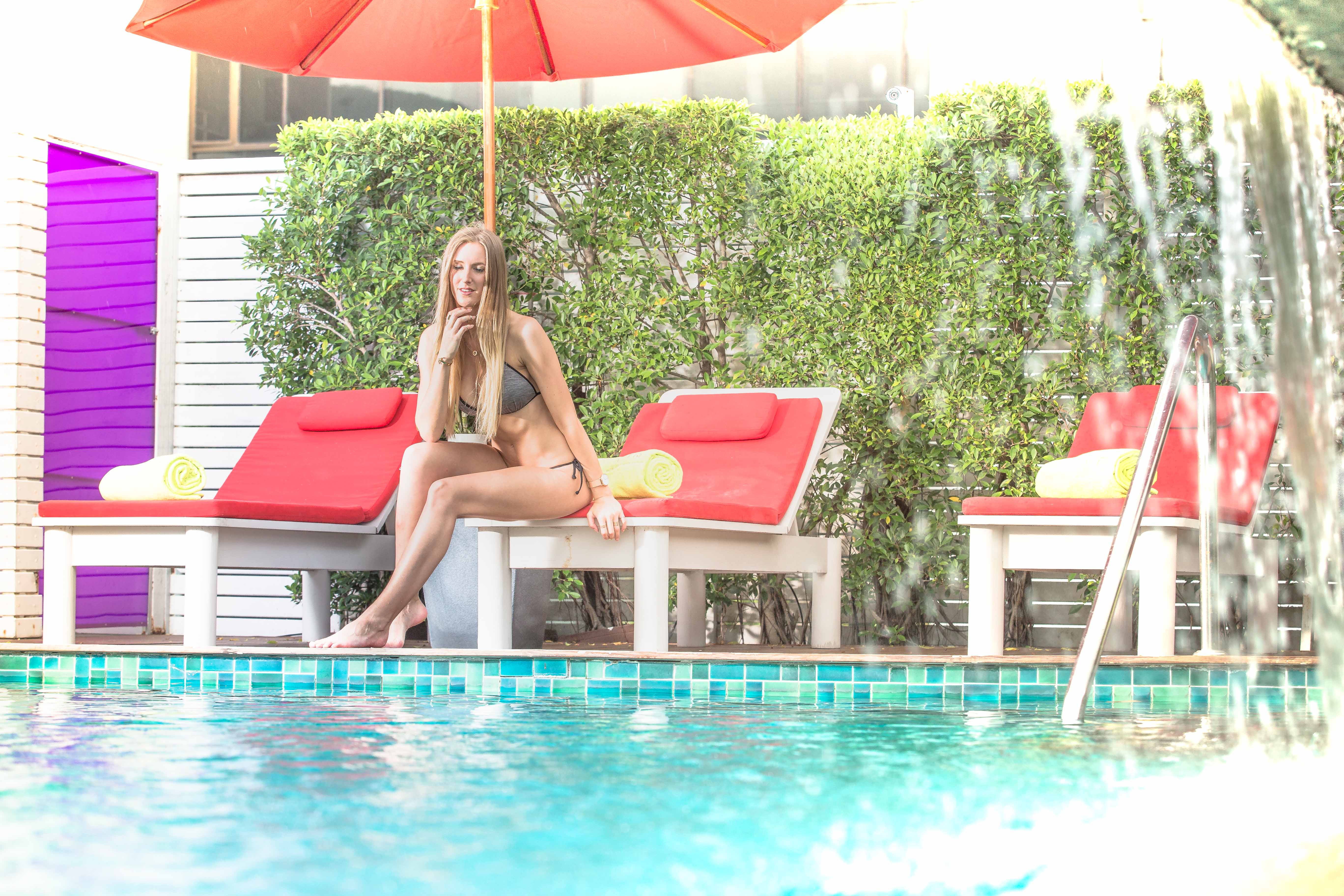 Ich möchte mich nochmals ganz herzlich bei Khun Pimsuwan und Khun Bank vom BYD Lofts Boutique Hotel & Serviced Apartments für die Einladung und beim kompletten Personal für die Gastfreundschaft bedanken!
I would like to thank Khun Pimsuwan and Khun Bank from BYD Lofts Boutique Hotel & Serviced Apartments for the invitation and the whole staff for being so hospitable!