!english version = blue!
Nachdem ich erst einmal auf der falschen Seite des Rheins ins Parkhaus fuhr, musste ich mit meinem kompletten Gepäck (Koffer, Handtasche, zweite Handtasche :D, und Kamera) noch knappe 500 Meter zum Hotel stapfen. Ich bin jedoch sehr froh darüber, denn die bei Dunkelheit märchenhaft beleuchtete Brücke zum Hotel ist alleine schon ein fantastischer Anblick gewesen. Ich checke also etwas zu voll bepackt ein und wen entdecke ich da neben mir an der Rezeption? Den "Sexy" Sänger Marius Müller-Westernhagen, der, wie ich später gegoogelt habe, am selben Abend noch als Überraschungsgast beim Udo Lindenberg Konzert in Gelsenkirchen auftrat.
After parking my car on the wrong side of the river Rhine i had to walk about 500 meters to the hotel with all of my luggage (bag, handbag, second handbag 😀 and camera). But i am pretty happy about that, because the fabulously lighted bridge that leads to the hotel is an attraction by it self. So I am checking in and spot the famous german rock singer Marius Müller-Westernhagen next to me. Later that day i found out, that he was a surprise guest on a concert of Udo Lindenberg in Gelsenkirchen.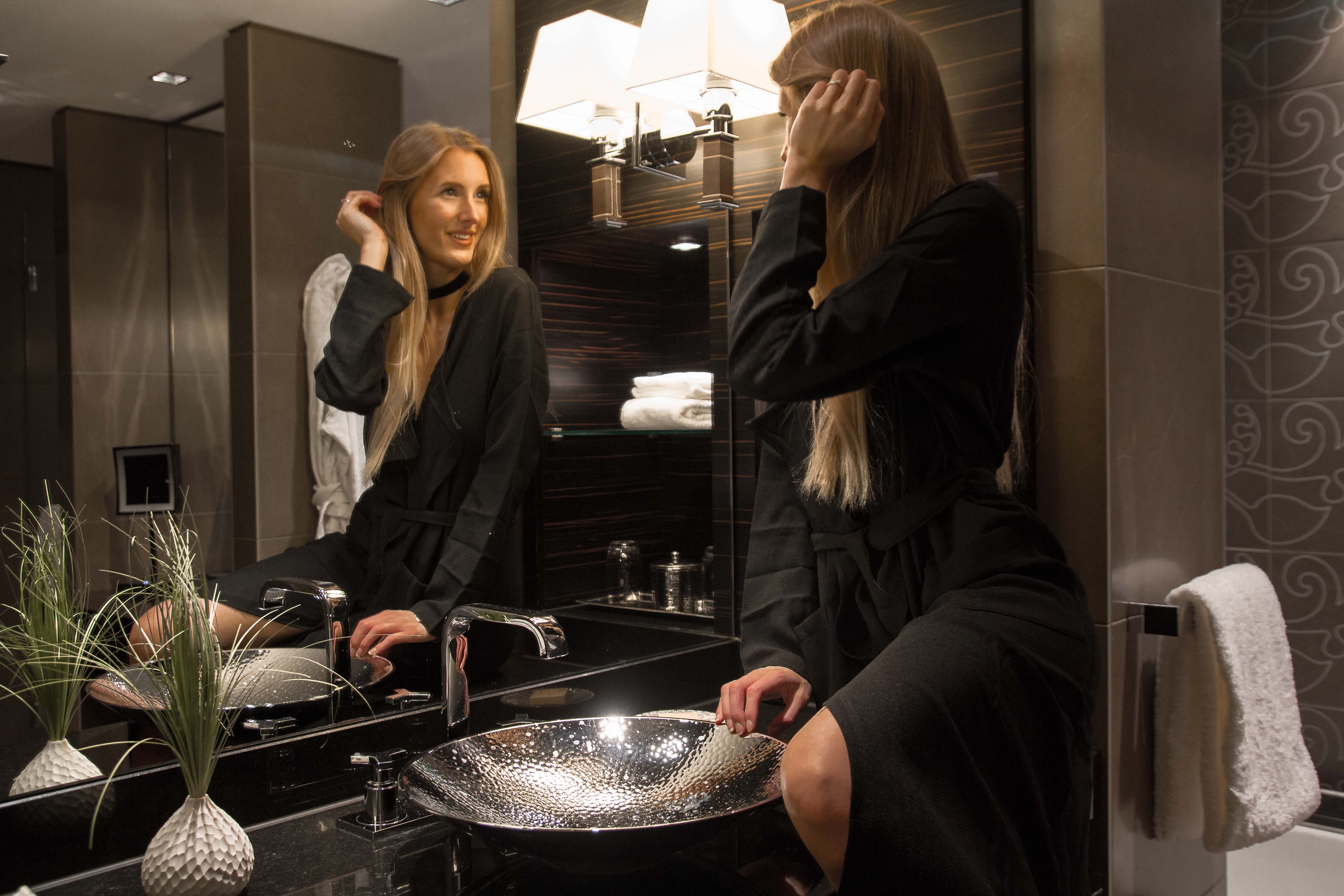 Einen kurzen Smalltalk später (er ist wirklich super sympathisch) geht es ab in den Aufzug, !16.! Stock, rein ins Zimmer und dann dieser sensationelle Blick aus den bodentiefen Fenstern über den Rhein und die ganze Stadt, inklusive Fernsehturm. Dass dann noch eine Flasche Sekt, sowie eine Auswahl an Pralinen für mich bereit gestellt wurden, versüßte den Abend im wahrsten Sinne.
All zu lange Zeit zum Genießen hatten wir allerdings nicht, denn es wurde direkt das Fotoequipment aufgebaut (inklusive riesiger Lichtanlagen) und alles für das Shooting vorbereitet. Das Shooting vor dem Fenster war schwierig wegen des Gegenlichts, nach einigen Einstellungsänderungen hatten wir dennoch ein ausgezeichnetes Bild im Kasten. Dann Szenenwechsel auf das super bequeme Kingsize Bett und danach wurden noch ein paar Bilder im Bad gemacht. Gute 4 Stunden dauert es schon, wenn man wirklich professionelle Bilder in verschiedenen Szenen ablichten möchte.
After a short Smalltalk (he is a very nice guy) I stepped into the elevator, 16th Floor, into my room, what a sensationell view out of that tall windows on to the city, the rive and the "Fernsehturm". A bottle of sparkling wine and some pralinés were prepared for me and made that evening even sweeter.
But I haven´t had too much time to enjoy, because we had to prepare the photoshooting (including the set up of lots of light equipment). Then we were shooting in front of the window, on the super cozy kingsize bed and in the bathroom. You have to calculate with at least 4 hours to shoot professionell pictures in different scenes.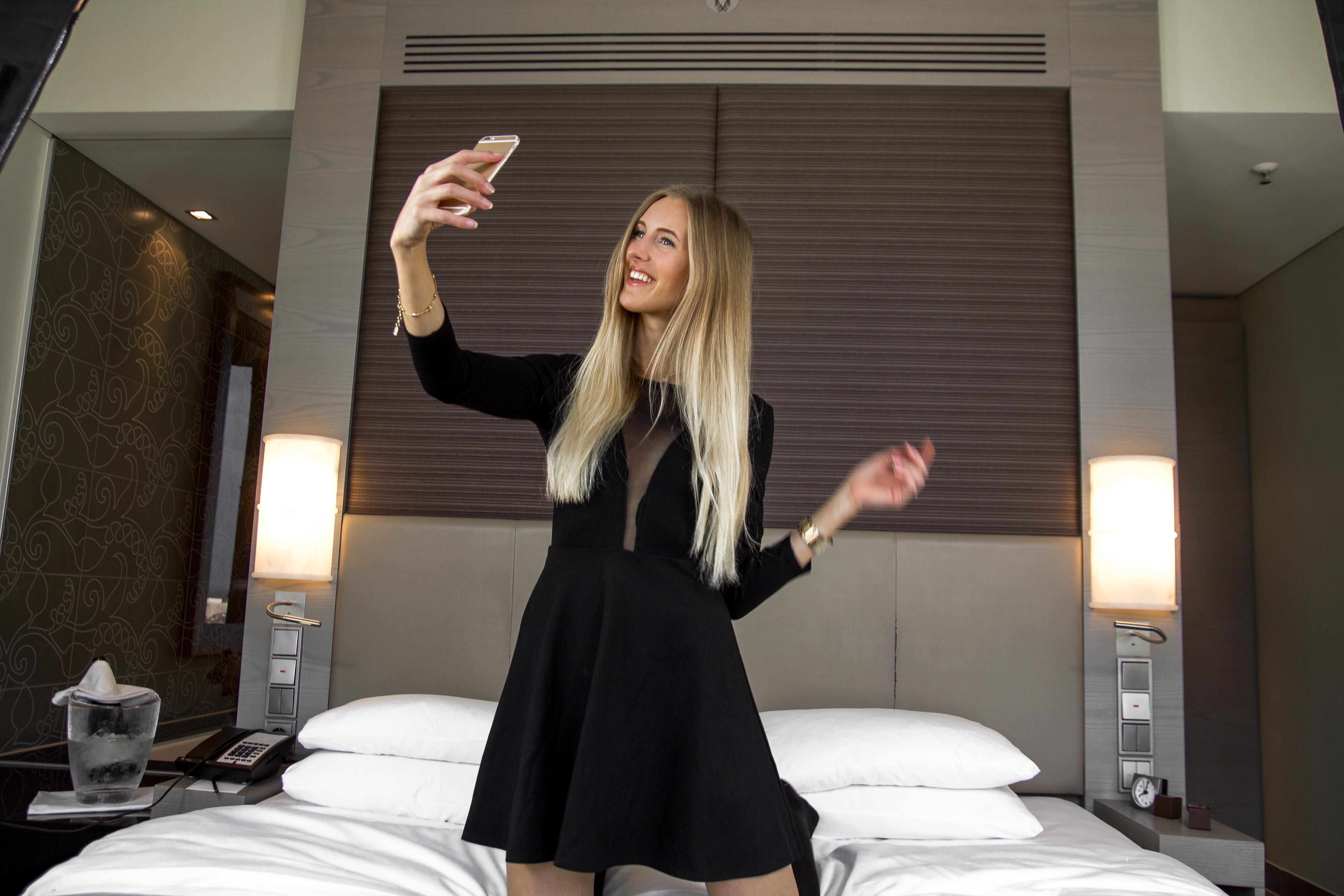 Gegen 22 Uhr machte ich mich noch auf in Richtung Fitnessstudio (damit ich danach im Spa mit ruhigem Gewissen entspannen konnte :P). Das Fitnessstudio ist im Hyatt Regency ein relativ kleiner Raum mit einer überschaubaren Anzahl an Geräten. Was vorhanden ist, ist aber topmodern, neu und vor allem sauber.
Wahrscheinlich wurde der Platz für den sagenhaften Spa Bereich benötigt, in dem man sich auf 485 m² wie im siebten Himmel fühlt. Man hat die Auswahl zwischen einer Dampf- und einer finnischen Sauna. Aber das wahre Highlight ist der überdimensionale Jacuzzi in dem, ohne kuscheln zu müssen, locker 20 Personen Platz finden.
Nach einer sehr entspannten, aber kurzen Nacht (Punkt 6 Uhr ertönte der schrille Wecker-Klingelton), musste ich mich leider durch das Frühstücksbuffet hetzen. Zum Glück hatte ich am Sonntag mehr Zeit und konnte mich durch alle (und ich meine wirklich alle :D) aufgetischten Köstlichkeiten futtern. Sonderwünsche wie French Toasts oder Schoko Pancakes wurden von der äußerst freundlichen Küchencrew frisch zubereitet. Wie im gesamten Hotel, ist auch im Dox Restaurant alles blitzblank sauber und das Personal super freundlich.
Around 10pm I was on my way to the hotel gym (mainly to relax in the spa afterwards :P). The Hyatt Regency Gym is a small room with a small amount of  machines. But the machines that exist are very modern, new and clean. It is probably so small because they needed space for the 485 sqm Spa area, where you fell like on cloud nine. You can choose between a classic- and a steam sauna, but the Spa´s highlight is the enormous jacuzzi. At least 20 people fit into it without having to cuddle with your neighbor.
After a very relaxing but short night (my phone woke me up at 6 o´ clock) I had to run through the breakfast buffet. Fortunately I had more time on sunday to try all (and I literally mean ALL) the delicious dishes. Special wishes like French Toast or Chocolate Pancakes have been cooked fresh on site. As in the whole hotel, the Dox restaurant was also totally clean and the staff was super friendly.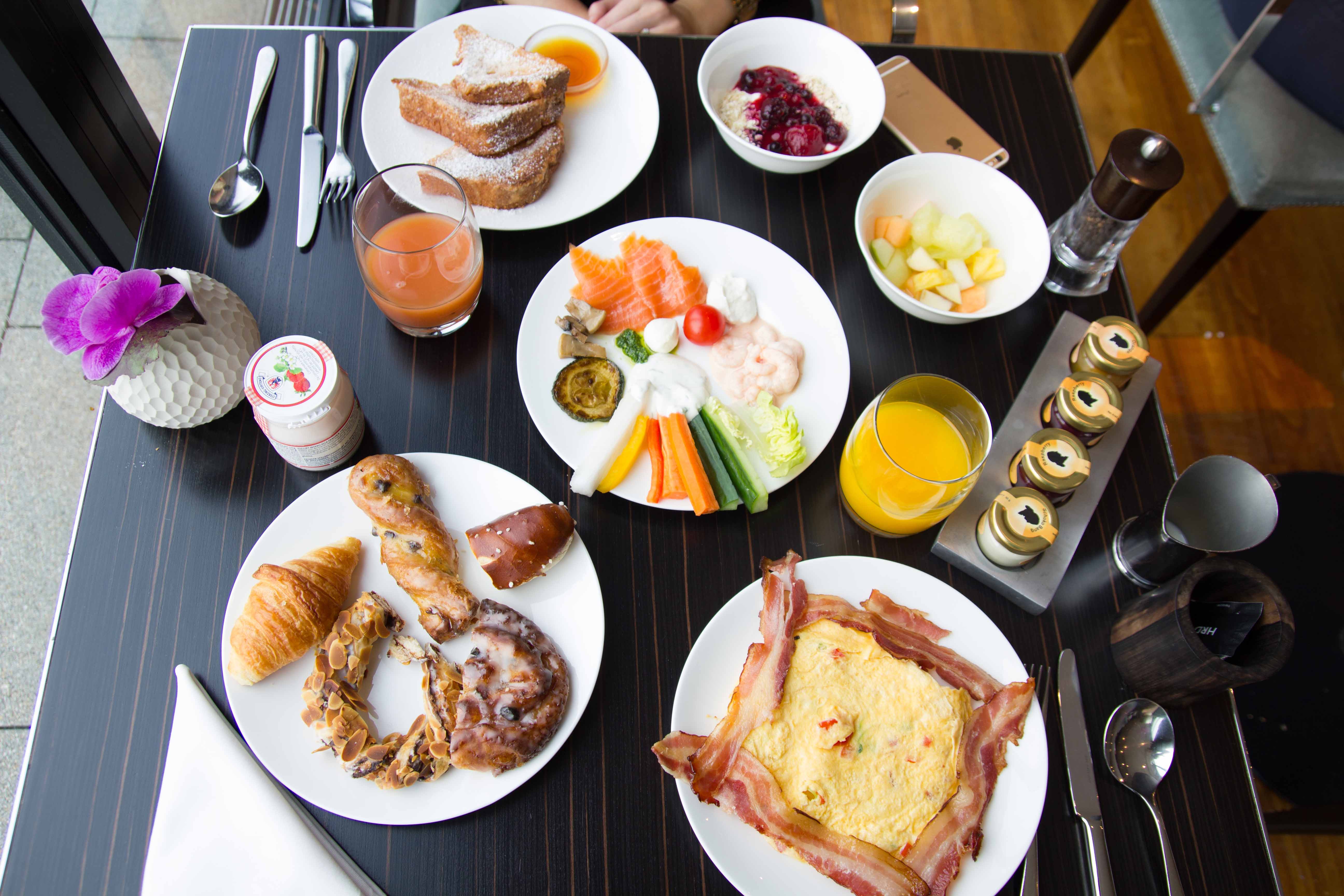 Als Marc und ich nach einem anstrengenden Tag um 01:30 im Hotel ankamen, packte uns der Hunger und wir rangen uns dazu durch den 24-Stunden Roomservice anzurufen. Nach langem Überlegen bestellten wir eine Currywurst, sowie ein Club Sandwich für insgesamt 26€. Kein Schnäppchen, aber dafür, dass man sein Essen um zwei Uhr Nachts direkt ins Bett geliefert bekommt, in Ordnung. Der Clue bei der ganzen Sache war allerdings, dass wir aufgrund einer verspäteten Lieferung (30 Minuten braucht der Pizzaservice zwar auch, aber für das Hotel war dies offensichtlich schon sehr lange) unser Essen geschenkt bekamen. Unglaublich nett und aufmerksam!
As me and Marc came back to the hotel at 01:30 am, we were hungry again and decided to call the 24-hours roomservice to cook us a currywurst and a club sandwich for 26€ in total. Not cheap, but for delivering your meal directly to the bed in the middel of the night still ok.
The best thing with that order was, that it was a little late (my pizza delivery always lasts 30 minutes, but for the hotel it seemed to be too long) and so we had that meal for free. That was so kind and mindful!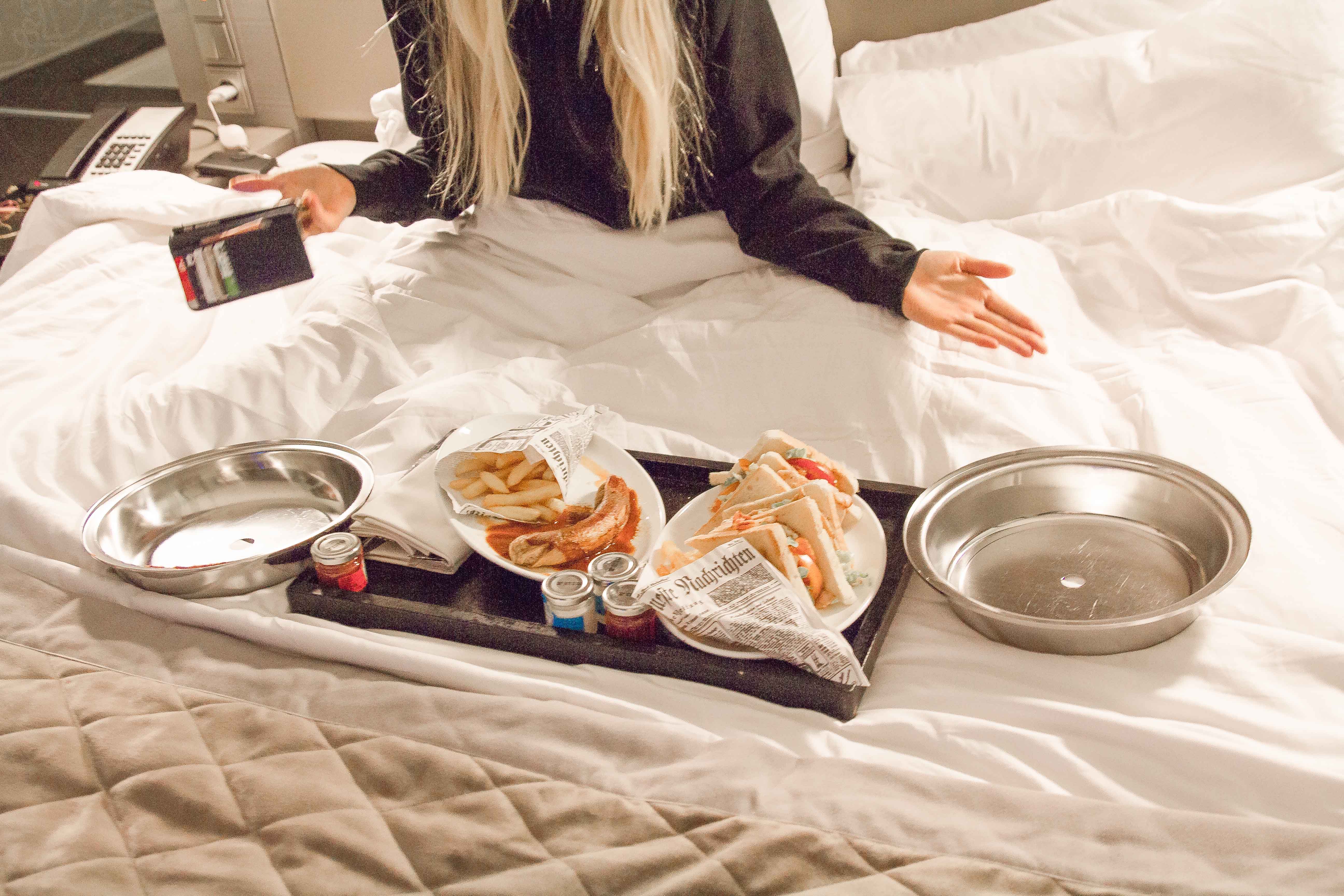 Auch wenn eine Nacht in diesem Top 5-Sterne Haus seinen Preis hat, kann man sich eine Übernachtung gerade bei Geschäftsreisen gönnen. Und wer hier nicht nächtigen möchte, kann auch einfach ein erstklassiges Dinner im Dox Restaurant oder das sensationelle Frühstücksbuffet (27€ pro Person) genießen.
Even when a night in this high-class 5-Star hotel has its price, you should still grant yourself a stay at a business trip. If you don´t want to spend a night there, you could still enjoy a dinner or the delicious breakfast buffet (27€ per person) at the Dox restaurant.
Ich möchte dem Team des Hyatt Regency Düsseldorf für die Einladung und den großartigen Aufenthalt danken. Man sieht sich garantiert wieder 😉
I´d like to thank the Hyatt Regency Düsseldorf Crew for the invitation and the incredible stay. I am sure to see you again 😉
https://lesliehuhn.de/wp-content/uploads/sites/10/2016/05/IMG_4583-1-klein.jpg
3456
5184
admin
https://athleticsfashion.com/blog/wp-content/uploads/sites/10/2016/04/LeslieHuhn-Logo-grau2.png
admin
2016-05-22 10:23:48
2018-10-10 16:49:16
Traumhafter Rheinblick aus dem Hyatt Regency Düsseldorf