Hi meine Lieben,
Diese Woche habe ich mal ein Outfit mit zwei verschiedenen Mänteln kombiniert und würde gerne von euch wissen, welche Variante ihr besser findet.
Variante eins ist ein rosa Mantel aus einem kleinen Ladengeschäft in Palma de Mallorca. Der Mantel gefiel mir sehr gut, allerdings gab es ihn nicht mehr in meiner Größe und für 100€ war er mir dann einfach zu teuer. Die Verkäuferin wollte ihn aber scheinbar loswerden und ich habe ihn dann für die Hälfte mitgenommen (ja sie ist echt so weit runtergegangen mit dem Preis…) und habe ihn hier umnähen lassen :). ->Na ja, eigentlich hat mein liebster Schatz ihn mir gekauft ;).
Der Mantel schaut vom Schnitt her aus wie ein Trenchcoat, allerdings aus Neopren-ähnlichem, elastischem Material.
Die zweite Variante ist eine Art weiße Fake-Fur-Jacke, auch wenn ich sie eher mit "fake wool" beschreiben würde.
Ihr glaubt gar nicht wie warm so eine fake fur Jacke hält. Als hätte man ganz legitim draußen seine Kuscheldecke umgeschlungen und darf damit überall hin. Herrlich…
Die Jacke ist ebenfalls aus Palma, allerdings aus dem dortigen Sfera. 
Die Kombination:
Mein Outfit besteht aus einem grauen Wollpulli-Kleid mit Wasserfallkragen, ein paar Stuart Weizman Overknees, einer Shopper Bag im Croco-Look und tollem rosé goldenem Schmuck von ThePeachBox.
Einmal mit rosanem Trenchcoat und einmal mit weißer Fake-Fur-Jacke kombiniert.
Outfit:

rosa Trenchcoat-Mantel vs. weiße Fake-Fur-Jacke
grauer Oversize Pulli
Doppelgürtel
Wildleder Overknee-Stiefel
Handtasche mit Croco-Optik
rosé-goldenes Armband & dazu passende Uhr
Ich freue mich über eure Meinungen, welche Jacke ihr besser findet.
Bussi, Leslie :o)
PS: Unter allen Kommentaren verlose ich diesmal ein tolles Kleiderpaket von NA-KD aus meiner letzten Kooperation!
Viel Glück!
Wer findet den kleinen Marienkäfer in meinen Haaren 😛 ?
Ich bin hier zwar mega unscharf, aber wer ist bitte dieser super creepy Kerl da hinter mir im Fenster oO?!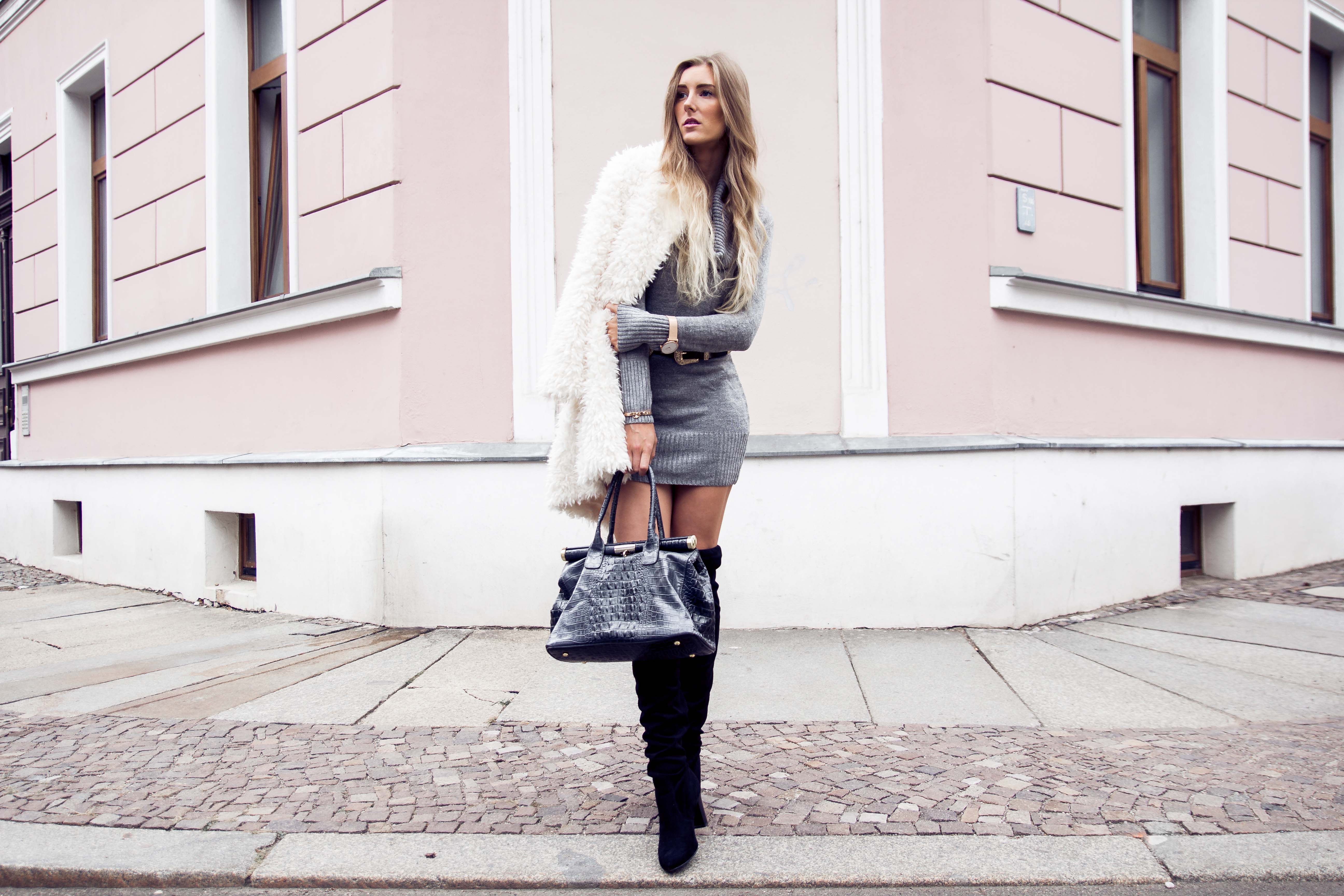 Just leave a comment and be happy 🙂 !
https://lesliehuhn.de/wp-content/uploads/sites/10/2016/10/IMG_1738-10-klein.jpg
3456
5184
admin
https://athleticsfashion.com/blog/wp-content/uploads/sites/10/2016/04/LeslieHuhn-Logo-grau2.png
admin
2016-10-21 01:19:24
2016-10-28 19:57:16
OOTW 42 with Zalando - pink coat vs. white wool